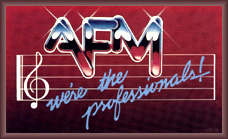 Welcome! Thank you for your interest in Local 674 of the American Federation of Musicians of the United States and Canada, chartered in Covington, Virginia – Lewisburg, West Virginia. We are a small but active Local.  
Bluegrass musicians to members of the West Virginia Jazz Orchestra belong to Local 674. We also have many retired professionals in our area who still offer their talents to the many who are eager to listen. The AFM is the largest organization in the world dedicated to representing the interests of professional musicians. Local 674 was chartered on June 25, 1946 and represents many of the finest professional musicians in our area, including Highland, Augusta, Bath, Allegheny, Rockbridge, Botetourt, Craig, Giles, Montgomery, and Pulaski counties in Virginia, and Greenbrier, Monroe and Pocahontas counties in West Virginia. AFM members perform all styles of music—alternative rock, classical, pop, gospel, jazz, country, folk, rock, big band, reggae, contemporary Christian, etc.. With such active members as Roberta Flack, Santana, Yo-Yo Ma, Sheila E, Suzanne Vega, The Goo Goo Dolls, Willie Nelson, and Branford Marsalis; there is a strong representation of major recording individuals and groups.
Join the American Federation of Musicians today!         We're the Professionals!